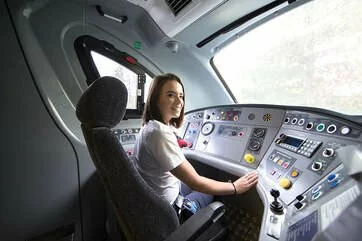 Getting on a course to be a train driver has for many years been difficult for anyone not already in the rail industry. It has also been the case that some train companies would only take applications from people who were already driving trains on the national rail network.

So we were encouraged to hear from Virgin Trains - the bit of the business running trains on the West Coast - last week. The company has a train driver apprenticeship scheme and has vacancies. It is looking to fill three positions, which will be based at Glasgow, Wolverhampton and London Euston.

No other train company is offering a train driver apprenticeship scheme.

Virgin has pioneered the year-long course in partnership with train drivers union ASLEF.

A Virgin Trains spokesman told us: "With many of our train drivers nearing retirement eligibility age, we on the lookout for fresh talent. We are hoping that the scheme will attract a diverse group of people including those who had previously not considered a career in rail".

During the programme, apprentices receive training in all aspects of the train driver role as well as additional learning based on functional skills and English, Maths and ICT.  They shadow drivers, train managers and station staff so they can gain a full appreciation of how the driver's role fits within wider operations. Apprentices also benefit from experiencing other areas of the company including control and command, safety and fleet management and even spend time with other Virgin companies, including Virgin Atlantic.  

Head of drivers for Virgin Trains, Nick Chadwick, told us: "As someone who joined the rail industry to become a driver as an ambitious 19-year-old, I am keen to give the next generation the same opportunity. We're delighted that all three of the apprentices from the pilot have gone on to join our driver trainee scheme. We're looking forward to seeing the next three fortunate candidates come through the doors."

Samantha Jones, 24, train driver apprentice graduate said of the scheme: "This apprenticeship has given me a chance to see what it's like to be a driver. I can't wait to start my official traineeship and eventually be responsible for getting thousands of customers to their destination every day. I hope the scheme will encourage more women to consider a career as a train driver - it's been such a rewarding experience for me."

The scheme has also received recognition from the train drivers union with Kevin Lindsay, District Organiser for ASLEF saying: "We welcome this joint initiative and look forward to continuing to develop the driver apprenticeship scheme with Virgin Trains as this is a great opportunity to bring young people into the rail industry and particularly the driving grade."
​
The latest scheme follows last year's successful pilot which received over 1,200 applications for three places on the training course. 

---