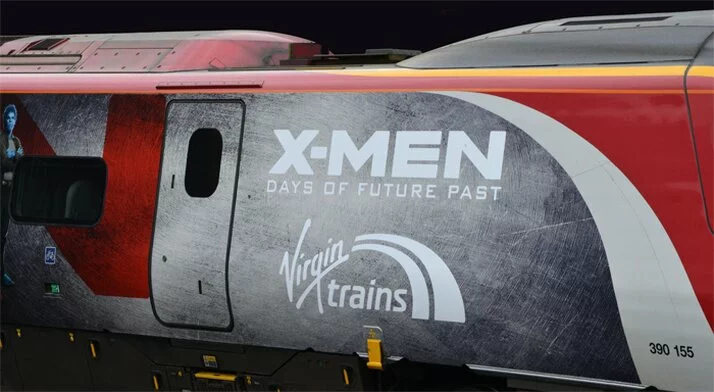 A Virgin Trains' 11-coach Pendolino train is now promoting the new X-MEN movie over the length and breadth of the West Coast Main Line. Launched at London's Euston station March 31st train 390155 is wrapped as a high-speed advert for the new film. The train was also named 'X-MEN: DAYS OF FUTURE PAST' after the new film which is released on May 22nd.. 

The Twentieth Century Fox movie, which features Hugh Jackman and James McAvoy who unveiled the train name, will carry its distinctive advertising livery until July with each carriage having its own striking character wrap. Virgin has confirmed that the nameplates will left on the train when the wrap is removed.

The 'wrap' was manufactured and applied by Stewart Signs (www.stewartsigns.co.uk) at Alstom's Longsight depot in Manchester, where the nameplates were also fitted. To keep the design secret, the train was moved under cover of darkness to London for its' high-profile unveiling.

Virgin Trains Lead Executive Phil Whittingham said: "For us it's all about our relationship with speed. This latest instalment in the X-MEN franchise ties in perfectly with Virgin Trains' relationship with travel. Time travel is a key theme throughout the new movie and at Virgin Trains we strive to make sure our customers' journeys are as quick as possible, as if our train are travel devices."

Chris Green the Theatrical Marketing Director at Twentieth Century Fox said: "This is a really exciting partnership for Twentieth Century Fox and Virgin Trains. By commissioning the first ever X-MEN: DAYS OF FUTURE PAST train we have been able to bring the film to Virgin Trains' customers and fans across the country in a unique and original was ahead of its release on May 22nd.

The striking train is part of a Virgin Trains strategy to bring the Virgin Trains experience to life for its customers.

Virgin worked closely with Network Rail and Euston's Platform 16, where the train naming took place became Platform X and station notice cases displayed witty messages. Wolverhampton station was also referred to as Wolverine station.

This is the third Virgin Pendolino to receive an all-over advertising wrap. Previously Pendolino 390029 has carried all-over branding for the Manchester International Festival and also a Superman movie. In 2013 an East Coast train carried all-over branding for the James Bond film Skyfall.
---