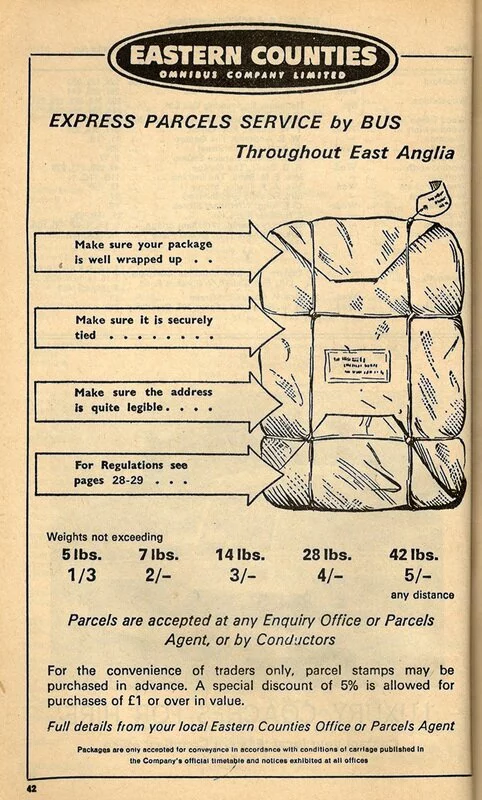 I was looking through some images recently and what struck me with the number of packages and parcels that were piled up in the windscreen of some Midland Red buses. The pictures dated from the mid-to-late 1960s, a time when many bus companies would carry parcels. I'm not sure how in today's 'elf-n'safety' world whether loose packages on the front dash of a bus would be allowed but over 40 years ago it seemed a case of anything goes.
It made me wonder what could be sent by bus and what charges would be made. So looking at Midland Red in 1965 the timetable tells me that I could had a letter to the Conductor for posting. The letter had to have stamps to the correct value attached and it then cost an extra 2d (1p) for which a bus ticket would be issued. What I don't know is if the conductor would post it at the next available post box or at a convenient point during his or he shift.
But it was not just letters, I could send a milk churn containing no more than 4 gallons of milk by Eastern Counties. Generally, the bus would be met on route and the package collected, or it could be sent to one of Eastern Counties' travel centres of parcels agents for collection later. I'm sure the milk churn delivery would have been a useful option for some farmers - but how and where was it located on the bus? Maybe just placed on the platform. What the Eastern Counties timetable also tells me is that I couldn't send a half side of bacon by bus! Also excluded was dog food, boxes of flowers and musical instruments as well as glass, china or liquids. For a parcel up to 5lbs the cost in 1969 was 1/3d (around 7p) with a maximum weight parcel of 42lbs costing 5/- (25p).
The cost for sending parcels by Midland Red in 1965 was 5lb 1/6d (8p) and for a maximum weight of 40lbs 4/6d (around 23p). There was a reduced rate for newsprint. Newsletter packages, news photographs, medicines and letter parcels for Warwickshire Cricket Club coast 1/- (5p) provided that they did not exceed 2lb.
Finally, it seems that wheeled suitcases and wheeled shopping trollies, carried free on most buses today, were seen as extras by Midland Red and cost 1d for every 6d of the adult fare, or part thereof. Midland Red also offered a left luggage facility at its travel centres.
But wait a minute. It seems you can send parcels by bus in 2015. I am told that there is a category on the ticket machines of Lincolnshire-based Delaine Buses for Parcels. So I spoke with Kevin Delaine-Smith who confirmed that is the case and the cost in 2015 is £1.60 (which would have been 1/9d – around 9p – in 1965).
---